Liz Illick
MS, NCC, LPCC
Liz is a Colorado native who grew up in the Denver suburbs and has called the Roaring Fork Valley home since 2018. Before that, she spent more than a decade in the Washington, DC area developing mental health programs for members of the military, veterans, and their families with the American Red Cross. This ultimately led her to earn her Masters in Clinical Mental Health Counseling from Johns Hopkins University.
It wasn't until her mid-twenties that Liz began exploring her lifelong love of horses. She quickly fell in love with riding and discovered the incredible bond and partnership that emerges when working with horses. Given the intuitive nature of horses along with their distinct personalities, attitudes, and moods, Liz has experienced first-hand the healing power of horses. Working with horses through equine-assisted psychotherapy provides her clients with a unique opportunity to engage in growth and self-discovery.
Liz also works as a counselor in private practice in Glenwood Springs where she provides both kids and adults with a safe, supportive, and non-judgmental environment to explore and address life's challenges. Her speciality areas of practice include trauma and attachment, stress and anxiety, depression, grief and loss, LGBTQ issues, eating disorders, poor self-esteem, and relationship and family issues.
Liz Illick is certified by the Equine Assisted Growth and Learning Association (Eagala). She adheres to the Eagala model and ethical standards.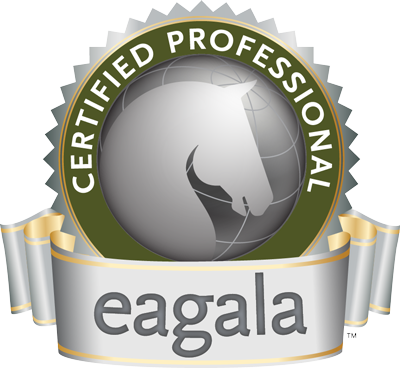 Eagala Certified Mental Health Specialist
Eagala Certified Equine Specialist
Learn more about Eagala

Why Horses?
The ability to connect with people and mirror our innermost thoughts and feelings makes horses great therapeutic partners. As pray animals, horses are highly sensitive to their environment. They instinctively analyze and react to our body language and other nonverbal cues, providing us with valuable feedback and insights into areas of our lives. They may even pick up on and display things that are difficult for us to see in ourselves. Horses are also a lot like us. They each have their own distinct personalities, attitudes, and moods. They are highly social and each have their own unique roles within the herd. It's also hard to ignore a horse with their size and presence. We can't just control a powerful horse. Approaching horses helps us reflect how we approach our relationships and how we can face other challenging or overwhelming things in our lives.
The Eagala Model is a team approach that includes a credentialed Mental Health Professional, a qualified Equine Specialist, and horses working together with the client in an arena at all times.
When inside the arena, all the work is done on the ground with the horses front and center, deliberately unhindered and never ridden, and allowed to interact with the client as they wish. This creates the space for the client, with the support of the professional facilitators, to reflect, project, and make deep connections.
The Eagala Model is so effective because it embraces the science that humans learn best by doing. The model prescribes a hands-on approach where clients are given the space to project and analyze their situations, make connections, and find their own solutions.